Do niedawna to kawior, który określano mianem "białego złota", był uważany za najdroższy. Teraz już wiemy, że biały kawior jest najbardziej ekskluzywnym i niesłychanie drogim produktem spożywczym. Ten przysmak pozyskujemy z jaj ślimaków! Swoją nazwę zawdzięcza dzięki perłowym, malutkim jajeczkom.
Jak powstaje kawior ślimaka
Ślimaki, które przeznaczone są do produkcji kawioru (biały kawior), mają specjalną dietę. Sam proces pozyskiwania tego przysmaku jest niesłychanie pracochłonny. Oto dlaczego – aby uzyskać tylko kilogram kawioru, należy ręcznie przetworzyć ponad 250 tysięcy jajeczekł! Hodowcy, którzy są zatrudnieni do pracy z tymi zwierzętami są bardzo cierpliwi i uważni. Proces zbierania, czyszczenia oraz sortowania jest dość trudny i ciężki do wykonania. Po tym etapie, specjaliści wszystko przewożą do laboratorium, w którym jajeczka zanurzają do specjalnej solanki. 26000 sztuk jajeczek ślimaka odpowiada kilogramowi kawioru. Ta ilość jest ogromna!
Kawior z jaj ślimaka jak smakuje
Już wiemy, że wygląda jak małe srebrnobiałe perełki. Koneserzy, którzy próbowali tego przysmaku, twierdzą że smakuje on jak las. Porównują smak do świeżości leśnej. Podobno podczas jedzenia, czuje się zapach liści, mchu i borowików. Dlatego właśnie tak często kawior biały jest nazywany kawiorem leśnym. Najczęściej podaje się go na grzance, jako dodatek do lampki szampana albo Martini.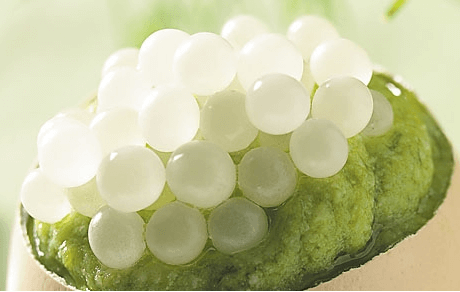 Biały kawior z jaj ślimaka ile kosztuje?
Wiadomo, że to najdroższy kawior świata. Jeden kilogram tego przysmaku kosztuje aż 7 tysięcy złotych! Nic w tym dziwnego, jeśli pomyślimy, że w celu uzupełnienia małego słoiczka, hodowcy spędzają nad tym ponad 4 godziny. Biały kawior jest niesłychanie modny we Francji. Francuzi określają go jako "caviar d'escargot". Hiszpanie również wykorzystują go w swoich restauracjach. W Polsce natomiast dopiero poznajemy ten ekskluzywny rarytas, jakim jest biały kawior. Jego popularność jest mała, a dostępność bardzo ograniczona.
Jak powstaje kawior z jaj ślimaka
Zapraszamy was do obejrzenia filmu, który przedstawia produkcję kawioru. Jednak nie jest to typowy proces. Pokazuje on, jak z pomocą kuchni molekularnej, można wyczarować pyszny kawior, w dodatku całkowicie wegański! To świetna alternatywa dla tych, którzy wykluczyli mięso oraz jego pochodne ze swojego jadłospisu. Przekonajcie się sami!