Awaria w Czarnobylu, pomimo że miała miejsce kilkadziesiąt lat temu, to w ciągu dalszym wywołuje wiele kontrowersji. Coraz częściej temat ten przewija się w mediach, chociażby patrząc na nowy serial Netflixa, cieszący się ogromną popularnością. Czy skutki tragedii wpłynęły na Polskę?
Czarnobyl katastrofa
Katastrofa w Czarnobylu wydarzyła się 26 kwietnia 1986 roku. Niestety doszło do przegrzania reaktora, co spowodowało wybuch wodoru i rozprzestrzenienia się do substancji promieniotwórczych. Z pewnością była jedną z największych awarii jądrowych, które się wydarzyły. Fatalna w skutkach, owiana tajemnicą, historia przerażająca.
Ponad 350 tysięcy osób ewakuowano, a skażona chmura "rozlała" się prawie po całej Europie. Doszło wtedy do dwóch wybuchów. Pierwszy z nich, spowodował wzrost ciśnienia pary wodnej znajdującej się w reaktorze, natomiast drugi, większy wybuch, wysadził pokrywę ochronną reaktora. Skutkiem tego było dostanie się powietrza do środka, a następnie rozprzestrzenienie się chmury radioaktywnego pyłu.
Czarnobyl serial Netflix 2019
Czarnobyl to 5-odcinkowy miniserial, w którym przedstawiona została sytuacja wybuchu elektrowni jądrowej. Jest to produkcja brytyjsko-amerykańska, za którą odpowiedzialny jest Craig Mazin, natomiast wyreżyserował ją Johan Renck.
Pierwsze pogłoski o powstaniu serialu pojawiły się w 2017 roku, kiedy to stacja HBO zainteresowała się Czarnobylem. Potem, w marcu 2019 roku podano informację o premierze, która przypadła na 6 maja 2019 roku.
W serialu główne role zagrali: Jared Harris, Emily Watson oraz Stellan Skarsgård.
Here's a terrific interview with @JaredHarris… he deserves every bit of praise heading his way. A remarkable actor and a first-rate analytical mind.

I'm sure there's a way his peers could acknowledge this. Yes, there *must* be…https://t.co/pykKgTQjV7

— Craig Mazin (@clmazin) June 18, 2019
Czy wybuch elektrowni wpłynął na Polskę?
Siła skażenia zależała od siły i kierunku wiatru, jak i opadów. Jednak Polska uniknęła większych skażeń w porównaniu do innych krajów. Większe stężenie jest widoczne na przykład w Skandynawii czy w rejonach znajdujących się bliżej Ukrainy, takich jak Rosja czy Białoruś.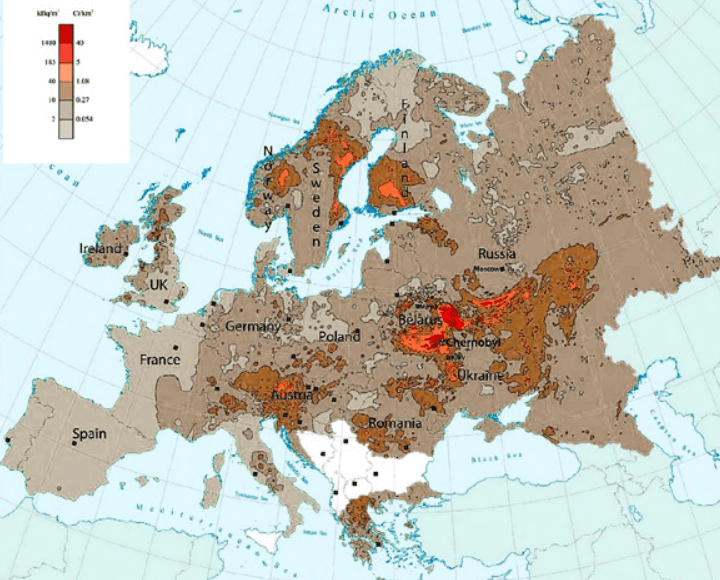 źródło zdjęcia: http://czarnobyl1986.info
Podsumowując, awaria w Czarnobylu to temat powszechny, który z pewnością będzie się przewijał przez kolejne lata.